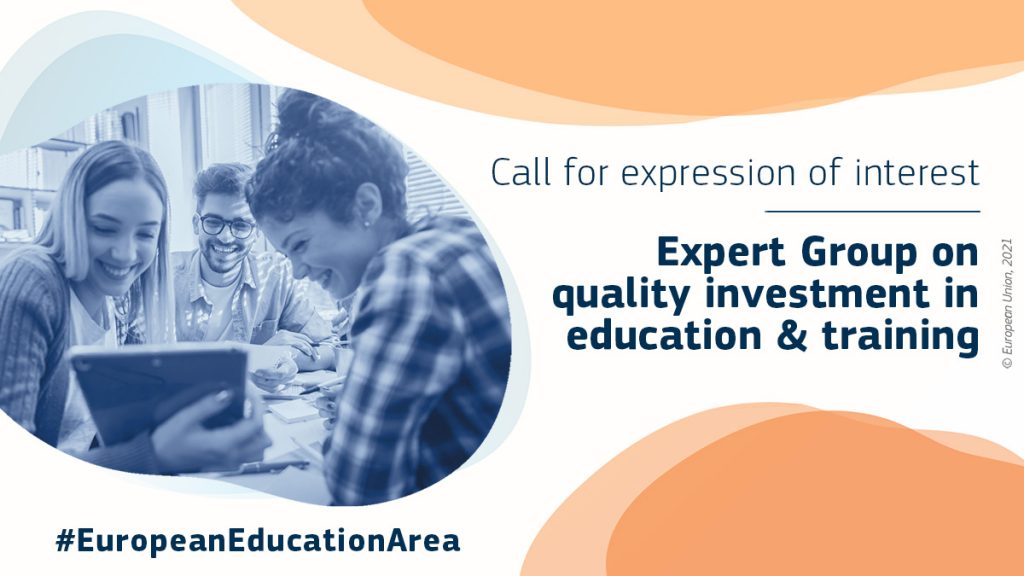 On 19 February 2021, the European Commission launched a call for expression of interest to establish an expert group on quality investment in education and training. They are looking for independent experts with proven and relevant competence and experience in education and training, in particular in education policies, systems and/or spending. Experts shall possess a relevant educational background in the fields of economics and other social sciences, architecture or engineering with a specific focus on education and training or educational sciences.
The group's overall mission is to carry out an evidence-based evaluation of education and training policies to identify those that allow achieving the twin objective of boosting education outcomes and inclusiveness, and improving the efficiency of spending. The group shall provide the Commission with robust evidence on the expected costs and benefits of selected education and training policies, on the challenges associated with their implementation and on the methodology for their evaluation.
The Expert Group will focus its analysis on those areas that represent the bulk of education expenditure and may have a major impact on education outcomes, notably:
teachers and trainers
management of education infrastructure and related physical and human resources
digital education (infrastructure and competence development)
Applications should be submitted electronically to the following email address. The deadline for applications is 20 March 2021. Additional information on the application procedure and selection criteria is available here.